20 Years of LFS
Since 1997, London Financial Studies has grown from a small London firm with a couple of clients into a global brand recognized by financial practitioners as a byword for excellence in executive education.
In a world where new businesses come and go, two decades is something to be proud of. As LFS comes of age, it is inspiring to see this pride shared by our team, faculty and alumni.
Some of the highlights in our history: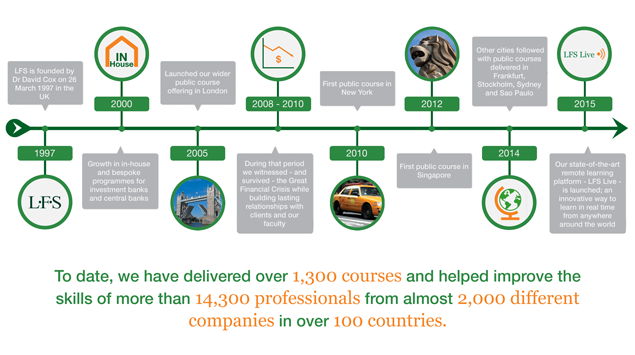 However, over all those years, certain things have never changed:
Our values are stronger than ever and continue to underpin everything that we do
Our clients still say the same nice things about us
We've looked at our feedback over the years and selected a few testimonials to show why our clients continue to choose us as a trusted teaching resource for professional development:
20 reasons to choose LFS
Expertise in Capital Markets

"LFS provides extremely high quality financial training. Lecturers are usually ex-practitioners, so they can provide real insight to how the products are used and risk managed in the real world." Corporate Markets, RBS

---

"The instructor had great insight into the business world and how financial products are used in trading activity in the practical world, which was a standout factor for me. Academic knowledge can be learned from books!" Business Analyst, Markit Group Ltd

---

"The course exceeded my expectations; all topics were treated in a deep way, with a real world application perspective. Additionally, the professor was very didactic and showed a deep knowledge in the subjects discussed." Treasury, Itau BBA

---

World Renowned Practitioners

"This is an excellent course with probably the top expert in commodities today. I highly recommend it to anyone who wants to have a real understanding of both the field of commodities and the existing models for commodity prices." President, Grupo Merino CA

---

"FX Exotic Options is a hands-on course covering topics from vanilla FX options [...]. Uwe Wystup is an absolute authority on FX derivatives and presents the course extremely well. Highly recommended." Asset Manager, ZZ Vermogensverwaltung

---

"I came all the way from South Africa to attend the course on hedge accounting by Juan Ramirez. He has a very thorough knowledge of the subject and provides practical examples of how hedge accounting is implemented. This was very useful. I would definitely recommend the course." Derivative Structurer, Rand Merchant Bank

---

Academic Excellence

"LFS Courses are organized by professionals that understand the level of material finance leaders demand if they are to give up time from their busy schedules. By attracting high level instructors, the courses are presented in a way that links top academic research with the realities practitioners face." Portfolio Manager, Morgan Stanley

---

"Professor Geman is a great teacher; she has a lot of knowledge in the commodity market as a trader. Also she is one of the most important academics in the area. Really impressed." Financial Analyst, GM Commodities Canada LP

---

97% Recommendation Rate

"A colleague recommended LFS courses as being superior to other firms." IRD Sales, RBS

---

"I would not hesitate to recommend LFS as a provider of top quality financial markets training courses." Trading Partner, 36 South Capital Advisors LLP

---

"The course was a fantastic experience for me, especially as an early-career professional. Mr Allen broke down complex topics for the group, and provided valuable context stemming from his years of experience in the industry. I absolutely recommend this course to any young person, as well as to seasoned professionals looking to refine knowledge and/or receive insight from a true professional." Portfolio Analyst, Hartford Investment Management Co

---

"LFS's programme was relevant for the current grey area of Fixed Income Attribution. It was a well-structured course and I would recommend professionals in the field to attend it for the overall growth of the Industry. It was a true value for price." Chief Risk Manager, SBI Funds Management Pvt Ltd

---

Actionable Knowledge

"The Accounting in Practice seminar gave me all the knowledge to face IFRS 9 implementation in my company." Treasury, Petroleos Mexicanos

---

"Everything I have learned here will support me in my professional life. Very useful and informative essays were part of this course." Equity & Fixed Income Trader, Unicredit

---

"Excellent training for those who require working knowledge about curve building and interpolation techniques, as well as to understand how to use Eurodollars for hedging exposures in a swaps book from a practical standpoint." Director of Structuring, Bancolombia

---

Latest Topics

"The xVA course by LFS has covered all relevant topics of today's derivative valuation. Jon Gregory provided an excellent insight into recent developments and links theoretical knowledge with the current and future regulatory landscape." Rates Trading, Commerzbank AG

---

"Excellent course covering the latest developments in the industry. Includes relevant worked examples that provide a practical application." Senior VP, GIC Pte Ltd

---

"Coursework was well-structured and covered a whole range of products relevant in the current financial context. The course delivery was excellent with the tutor open to questions. I would really recommend this course to anyone interested in having a refresher of interest rate products." Fixed Income Associate, ICICI Securities Primary Dealership

---

Practical Approach

"This is one of the most practical courses I have ever attended. The excel spreadsheets really helped reinforce my understanding of the subject matter and the lecturer was very helpful in answering whatever questions that I had." Sales & Distribution Dealer, Maybank

---

"LFS courses will not disappoint those looking for advanced technical quantitative finance content, delivered in a structured and scientifically rigorous manner. Their strong point is a focus on practical applications, including ready to use coding." Portfolio Manager, European Investment Bank

---

"[...] Cheryl worked extensively through practical examples in real time, and connected theory and practice clearly and efficiently. Excellent overall experience." Market Risk Manager, RBS

---

Global Focus

"The course addressed the subject from a global stance where mechanics where treated sufficiently and considerations were debated intensively. Especially the latter contributed to my objectives of the course." ALM & Treasury, ABN AMRO Bank

---

"Very knowledgeable course leader, both in the topic and the broader global financial markets. The course gave a good understanding of attribution techniques." Head of Strategic Liquidity Reserve, Deutsche Bank

---

Intensive and Up-to-date Content

"Good up-to-date use of stats in given examples helped to provide clarity and context to the current economic environment." Business Analyst, HSBC

---

"Well arranged, well focused on the topics, very updated to recent events, clear and available teacher." Risk Management, Mediobanca SPA

---

"The [Fixed Income Attribution] course was in-depth and the amount of materials covered was perfect for the 2-day time frame. The tutor's teaching skills were of a high level and his dedication to the course ensured an enjoyable learning experience." Portfolio Analyst, Achmea Investment Management

---

Personalized Experience

"Very good and useful course. The tutor was very helpful at all times and tried to accommodate all levels of knowledge in the group." Pricing Manager, investment management company

---

"The course was extremely well put together. The tutor was brilliant, very thorough and clear and willing to stay extra hours to ensure all students grasped the material." Sales Executive, ICAP

---

"I would highly recommend attending one of LFS's courses, irrespective of your level. Their complete breakdown makes the courses applicable to both beginners and advanced professionals." Junior Market Risk Analyst, M&G

---

LFS Live

"It was my first online live experience and I am pretty amazed with the quality of the broadcasting. I would recommend the LFS Live experience to anyone." IT Governance, BTG Pactual

---

"The remote learning experience [LFS Live] was extremely satisfying. I was able to talk to the lecturer whenever I had a doubt and all the questions were clarified. It enabled me to feel like I was in LFS's classroom without leaving my office in Brazil." Finance, Banco do Brasil

---

"In a world as connected as it is, LFS Live is a great idea today, and probably an essential tool very soon. Well done LFS." Market Risk Officer, UBS

Find out more about our state-of-the-art remote learning platform: LFS Live

---

Value for Money

"An excellent course, taught at the right level for all delegates to extract value from and apply in the workplace." Fixed Income Rates Pricing & Risk, Citibank

---

"The course was absolutely fantastic! Jon Gregory was great and answered every question. He made me focus on the subject and think about it from a different perspective. Time and money definitely worth spending on this course. It was one of the best trainings I have ever done!" Capital & CVA Risk Analyst, BNP Paribas

---

"Excellent course and instructor. Well worth the time (which is a high bar for a 2 day class). Hope to take another course with LFS in the future." Financial Economic Analyst, US Regulator

---

Strong Alumni Network

"I also enjoyed networking with other participants as there was a good mix of people on the course – regulators, risk managers, traders, quants, IT, finance, middle office etc." Technology, Wells Fargo

---

Continuous Learning

"This is my 3rd course at LFS and again I have not been disappointed. The course as well as the organization were perfect." Senior Software Engineer, Commerzbank AG

---

"This was my 2nd LFS training and will likely attend again." Assistant VP, Manulife Financial

---

Lively Teaching

"Nice lively way of teaching. Very different from my very technical years in university." Quantitative Analyst, Pictet Alternative Advisors SA

---

"Training was packed with practical applications and entertaining at the same time. Course leader is very knowledgeable in the subject matter. Would highly recommend London Financial Studies." Director - Quantitative, National Bank of Abu Dhabi

---

"I thoroughly enjoyed the course at LFS. Tutors were brilliant and interesting which made the classes even more fun." Developer, BNP Paribas

---

Excellent Customer Service

"London Financial Studies is a wonderful training provider – the staff, the equipment, the environment and the course curriculum are on point." Zenith Bank Plc

---

"LFS staff were very friendly. Lunch and refreshments were first class. Location is great. I strongly recommend it to everyone." Developer, BNP Paribas

---

"The staff is more than kind and very willing to help with personal requests (e.g. arranging a taxi). The facilities are efficient and complete. Everything worked very well." Fixed Income Rates Pricing & Risk, Citibank

---

MyLFS

"[...] the materials as well as the side readings, papers and exercises enable us to gain a deep technical understanding of the area." Senior Relationship Manager, Bank of International Settlements

---

"The course was excellent and exceeded my expectations. I learned a great deal within the 3 days. The lecturer provided the participants with excellent notes, exercises, spreadsheets, his textbook and we have access to the LFS library so that we can build on everything we have learned at the course." Quantitative Analyst, Standard Bank Group

---

"The tutor is excellent, knows the theory and practice very well. I greatly appreciate that he shares all the spreadsheets, the reading materials and gets into the practical aspects instead of only focusing on theory." Senior VP, Sumitomo Mitsui Banking Corporation

---

Global Client Programme

"As a member of LFS's Global Client Programme, I can easily register my colleagues online for any LFS courses across the globe, am able to monitor current and past bookings as well as enjoying personalised support from their help desk. More importantly, our company benefits from special rates with savings increasing proportionally to the number of courses we book." L&D Manager, ING

---

Bespoke Courses

"Tutor demonstrated strong knowledge and talent in practical application. Exercises and analysis tailored specifically to our company made the difference to most common financial training courses." FCA Italy S.p.A.

---

"Tutor went the extra mile by using examples which were highly applicable to my own company." Hypo Alpe-Adria Bank

---

"Highly knowledgeable tutor and up-to-date information; this course gave me a great high-level overview of the changing regulatory landscape, with a much appreciated ability and preparedness to zoom into any particular detail." European Investment Bank

Find out more about our In-house Courses

---

20 Years' Experience

"Excellent and well-structured course. Teacher's knowledge was first class and his delivery was excellent." Head of Diversified Portfolio Management, BT Financial Group

---

"I was very impressed with the quality of the course and the ability of the tutor to explain complex topics through discussion and examples. The tutor is clearly passionate about the subject matter which made it easy for me to remain attentive throughout." Business Analyst, global investment bank

---

"The course gives a brilliant insight into the techniques used by quants. I was very impressed with Dr Acomb. He's very knowledgeable, passionate and patient. The training provided by LFS is relevant, interesting and presented in a very accessible manner." Developer, BNP Paribas

---
Careers with LFS
London Financial Studies is constantly expanding its range of programmes and we are always looking for exceptional people who would like to develop their careers.